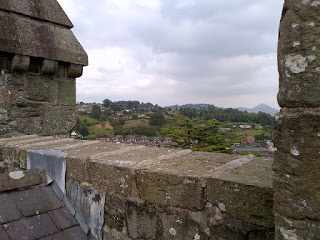 This weekend was dedicated to doing some much needed repointing on the tower parapet wall. The top of the tower is the most exposed part of the building, getting the worst of the weather from all directions.
Sons #1 and #2 worked very hard helping to carry all the equipment and buckets of lime mortar up to the top of the 110ft tower.
With son #3 very keen to help and climb up there!
However we stayed firmly on ground level, painting window frames!
As well as working on the parapet wall, Karl put some mortar on some of the stone ledges to aid rain water run off. These ledges are aesthetically pleasing to add detail to the building's design but they do cause a lot of damp issues.
It felt good to have a weekend doing repair work, however it is daunting seeing how much more repointing needs to be done in even more inaccessible areas!