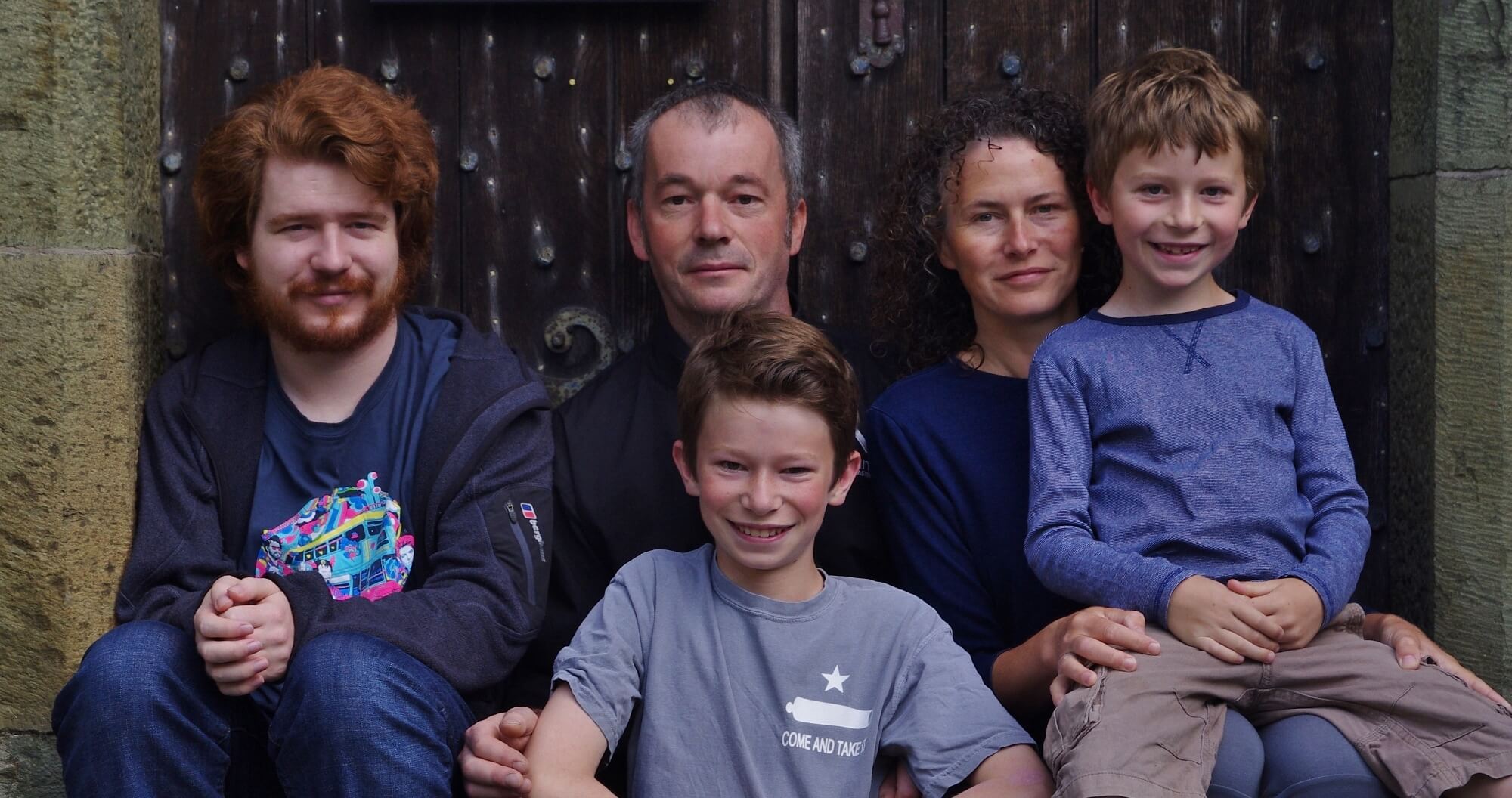 We both grew up in Mid Wales, Karl in Trefeglwys and Natalie in Bwlch-y-Sarnau, where we had a rural 'outdoorsy' childhood giving us confidence in practical skills and a love for the countryside. We met whilst we were pupils at Llanidloes High School. As a young man, Karl joined the Royal Navy and went off to sea, whilst I (Natalie) went to Art College in Loughborough to study Textile Design. When Karl had had enough of sea faring, he spent some years in London working and extensively traveling for the BBC World Service before returning to Mid Wales.
Whilst working in Welshpool for a local manufacturing firm supplying parts for the automotive industry, Karl heard about an old redundant church for sale. He was intrigued and on one sunny Sunday afternoon, we explored Welshpool to find it. Christ Church was locked up and covered in ivy and weeds which rather added to the charm. Karl was keen to see more so made an appointment with the local estate agent to view inside. On setting foot inside he had the vision to restore it by living in it and opening it as a public building once again. He had rather fallen in love with this beautiful building. After a lot of deliberation and convincing on my part, we purchased Christ Church in 2003 and our restoration journey began.
I gave up my Design Technology and Art teaching job to devote my time to this mammoth project. Owen, who was 7 at the time quickly settled into his new school in Welshpool, and thankfully embraced church/building site life.
Since living at Christ Church, he has been joined by two brothers, Fred who arrived one snowy Christmas Day, and Victor who was born at Christ Church. This is truly a family venture and all three boys have been involved in every aspect of our work here. They are having a rather unique childhood, which I'm sure one day they'll appreciate! We really do appreciate them.
We are often asked if we are experienced builders or architects. We are not but we are keen learners and hard workers and it's amazing what you can achieve just by getting on with it. Each day we endeavour to achieve something, big or small to help this building's cause. We undertake the majority of the work ourselves hence the lengthy time scales involved. However this method has proved its worth as we are able to take great care with the restoration work. Integrity and patience are our key words!
Our restoration journey thus far has been one of hard work… a lot of sweat but thankfully little blood and just a few tears. It is a fascinating journey which we are still enjoying, learning and thriving on. And will we ever finish?… probably not!
However we have halted the structural demise of Christ Church which has been no mean feat. This has been achieved through the completion of many jobs such as replacing two of the roofs, overhauling rainwater goods, improving drainage, re-pointing and plastering with breathable lime mortars. We still have much more to do and remain optimistic that we will indeed get to the end of the lengthy list of restoration jobs we inherited.
More about the project can be seen here.
Our progress can be followed in the Journal.