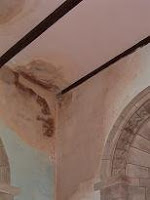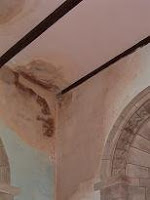 Much of the repair work to Christ Church has been ensuring the building is watertight. Most of the internal damp problems are a result of leaking roofs and blocked guttering. Access to these high areas is one of our biggest challenges. We need to access and renew the guttering on the Nave roof as soon as possible as overflowing gutters are causing a lot of water ingress. The two lower roofs on the north and south side both need re-slating. The parapet copings need re-bedding and all modern re-pointing needs to be removed as it has been done with cement. We will replace it with lime mortar, so preventing any further unnecessary damage to the stonework.
The internal walls are plastered with lime plaster onto solid stone. Originally this plaster would have been painted with a lime wash paint. This would enable the walls to 'breathe', where moisture would be able to penetrate through the plaster and evaporate.
However in recent years the walls have been painted with an impermeable masonry paint, therefore preventing this breathing process and causing damp problems. We have undertaken the mammoth task of manually scraping off this paint from the entire building. We will re-skim the walls with lime plaster and paint the walls with lime wash, enabling the walls to breathe again.
During this process we have also discovered many patch repairs to the plaster work with modern gypsum plaster and even concrete! (see photograph above). This is extremely damaging to the fabric of the building as it draws in the moisture and holds it against the stone. We are slowly removing all modern plaster work and beginning to replace it with lime plaster. This will have a huge positive effect on the condition of the building.