Exhibition honours a pioneer
We have been involved in an exhibition honouring the life and works of Thomas Penson, architect of Christ Church. John Hainsworth of the Llanfyllin Dolydd Building Preservation Trust has been the driving force behind the exhibition and it has been a joy to work with the steering group in helping to find out a little more about this pioneering architect of which very little is known.
The following has been extracted from a press-release about the exhibition:
'On 15 October an exhibition opened at Oswestry Town Museum to honour an architect and engineer who did much to change the face of the Welsh border counties in the nineteenth century. The same day saw the launch of a website: www.thomaspenson.org.
Thomas Penson was based in Oswestry, where he was Mayor in 1840-41 and designed Holy Trinity Church, the National School, the Cross and Powis Markets as well as the vanished Gaol on Bailey Head. He can't have spent much time in his Willow Street office. As Surveyor for Montgomeryshire and Denbighshire and for the Montgomeryshire turnpike trusts he was constantly on the move, travelling on roads and crossing bridges for which he was responsible. A journey south might have taken in his ornate church and splendid bridge at Llanymynech; Pentreheylin Hall near Four Crosses; Christ Church, Welshpool with its massive tower; Vaynor Park and the pretty, black and white cottages at Berriew; Newtown's Long Bridge and Flannel Exchange and the Workhouse at Caersws.
Another of Penson's workhouses, at Llanfyllin, is the occasion of the current exhibition which marks the restoration of its Master's House. It's been mounted by volunteers of the Llanfyllin Dolydd Building Preservation Trust in partnership with Oswestry Town Museum and with the help of the National Lottery Heritage Fund. Much of the research into Penson's life and career, and his remarkable family, has been carried out by Frances and David Ward of Meifod, who have also been examining his bridges; John Hainsworth from Llangynog has concentrated on his buildings. They've been assisted by a steering group that has included Mark Hignett and Cass Killow from the Museum; Glyn Gaskill of Llanymynech History Society, Natalie Bass whose family owns Christ Church; Ken Owen of Oswestry Borderland Heritage and the Trust's Archivist, Martin Davies. Joe Healey, who designed the recent book on Llanfyllin's Masters and Matrons, has created the website.
More on Penson's life and works can be seen on the exhibition website which will continue to develop as more material is added. The exhibition itself was unveiled by one of his successors as Mayor of Oswestry, Cllr Mark Jones. It will remain on view for the next few months: the Town Museum, which houses a fascinating and diverse collection focusing on local history, is open on Wednesdays, Fridays and Saturdays from 10 a.m. to 3 p.m.
Later the display panels will go on tour to venues along the border. They lack one important element: no portrait or a photograph has been found of Thomas, or of his two sons who both became well-known architects. It's been suggested that one of the terracotta heads over the door at Llanymynech might represent the architect, but there's no proof and no family papers seem to have survived. It's hoped that renewed interest in the Pensons might bring more information to light.'
Here in Christ Church there is this moulded terracotta face that is very different to the stylised faces that adorn the tops of the pillars in the nave. Did Penson sign his works with an image of himself I wonder? It would be fascinating to see a confirmed image of him one day. Hopefully the exhibition and website might help unearth more information about this industrious man whose work is visable all over Montgomeryshire.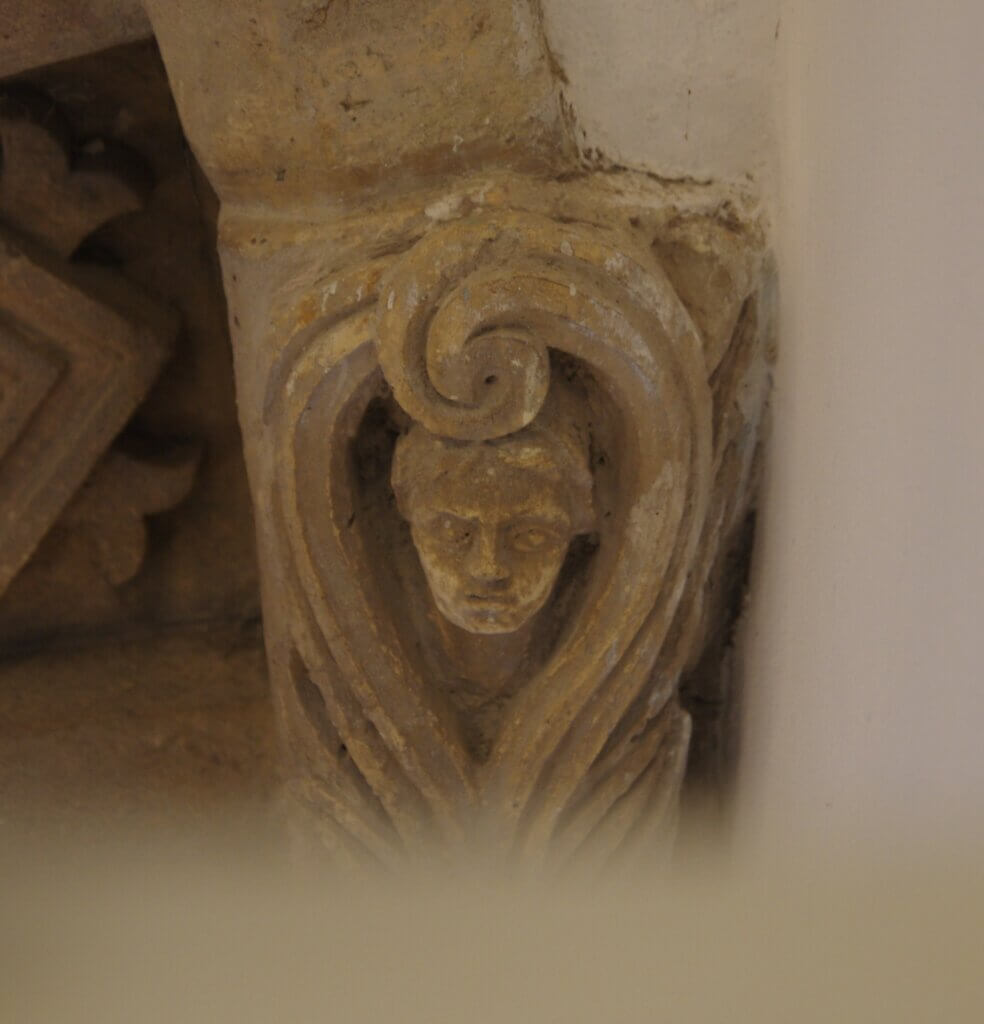 The website that has been created to bring together all of Thomas Penson's works features a very informative entry on Christ Church.
https://www.thomaspenson.org/christ-church
We hope that one day the Thomas Penson exhibition will be on view here when it is on tour.