A house update is long overdue, so I thought I'd show you how the landing has progressed. Over the summer the ceiling and walls have been painted, along with the railing along the edge of the landing (and boy did that take a long time!). The walls are painted in Farrow and Ball's 'Pointing' and the railing in 'Borrowed Light'.
The 'original' church wall above the arch has been reskimmed with lime plaster and limewashed. The landing gives a fantastic view of the patterning in the arch and of the living room down below.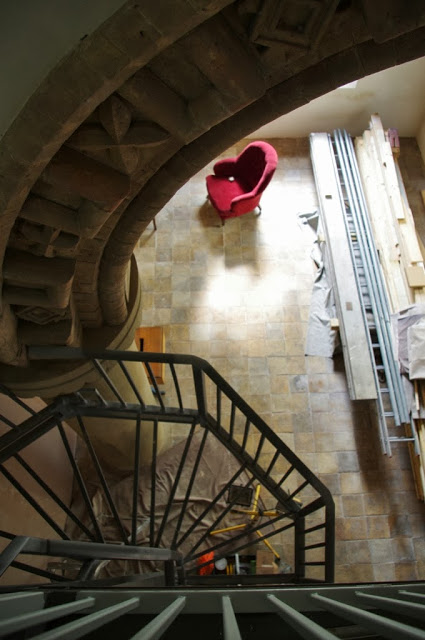 And here is the view of the landing as you come up the stairs. As you can see, the bathroom is still a 'work in progress'.
The floor will have parquet flooring… one day!
What has really given the landing it's finishing touch is the installation of the lighting.
The three bulkhead lights are a nod to Karl's Navy past, with their utilitarian style.
The pendant light in the stairwell is one of our favourite 'finds', and has been sitting on a pew, packed up, for years waiting for this moment!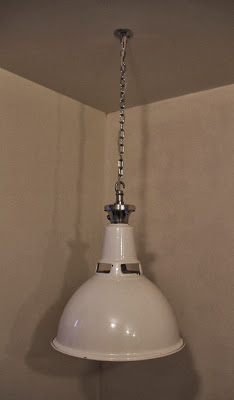 It originated from Fort Dunlop, the iconic building alongside the M6 in Birmingham. It is a building that we both remember since childhood. Fort Dunlop was built in 1917 and was once the largest factory in the world, employing 3000 people. It was derelict for 25 years, before being redeveloped as a business centre. The enamelled light was bought from
Trainspotters
, an industrial lighting salvage company – do take a peep at their website, they have some really interesting stuff!
It's wonderful to have fittings in the house with their own history and story.
The painted landing and the light fittings do enhance the overall view of the house when you're downstairs too, as the 'finish' is a little more visible!
So what's next… Karl is pushing forward with the bathroom, getting it ready to be plaster boarded. I have returned to limewashing my unfinished 6 metre high wall, in what will be our bedroom. Once that is completed, the stairs will be painted, before the oak treads are put on…
Oh and as well as all that, we are having the south aisle roof re-slated!