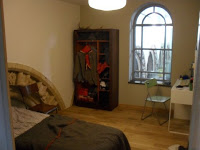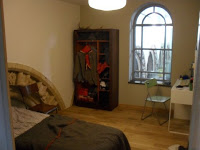 Finally we have a finished room! Its all very exciting, especially for Owen who has vacated 'The Hut' and moved in! It took a while to do all the finishing touches like skirting boards, hanging and painting doors, but its all been worth it as we're really pleased with the finished result. Its wonderful to see all our ideas come to fruition and everything has come together really well. The space works well, proven by the fact Owen's managing to keep it surprisingly tidy. We have been working on the neighbouring bedroom at the same time so that will soon be finished, though it is not safe for Fred and Victor to be sleeping up there yet. We have been doing a lot of rearranging and sorting out in 'The Hut', now that there is a little more space. It has made us face the reality that 'The Hut' is reaching the end of its life as it was designed to be more of a temporary solution.
We have also recently employed the services of Gail, a professional lime plasterer, to work on the lime plaster repairs. I have conceded defeat in trying to complete them all myself. Gail, Dave, Charles and Jo have done a fantastic job so far in bring the patches to the right level and putting a finish coat on all the original church walls that are in the house (as we had to remove all the original non breathable masonry paint). Two walls are completed down stairs which look amazing, so level and the corners so crisp. They are very skilled, which is very apparent where their work meets mine with all its lumps and bumps. But, hey at least I had a go! Victor and I have been doing a few of the smaller patches of scratch coat recently, and it has been nice to get my plastering arms back!
Christmas is fast approaching. The tree is up and looks stunning against a backdrop of finished wall. Little bits of house feel like they are tantalisingly close to being finished. I think 2012 will see us very close to finishing many more bits of house, all being well.
Merry Christmas and best wishes for 2012!