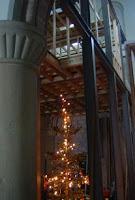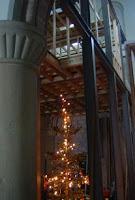 It's late on Christmas Eve but wanted to take this opportunity to wish all the very best of the Season's Greetings from a very snowy Christ Church.
The house build has progressed over the last few weeks with flooring and stud walls appearing upstairs. It's amazing as you can really make sense of the layout and see the shape of the rooms. Very encouraging progress.
The christmas tree, situated out in the church will be at the centre of our day tomorrow,we'll all have to be wrapped up as its pretty cold! It looks lovely, a little bit of order in amongst the chaos!
Merry Christmas!