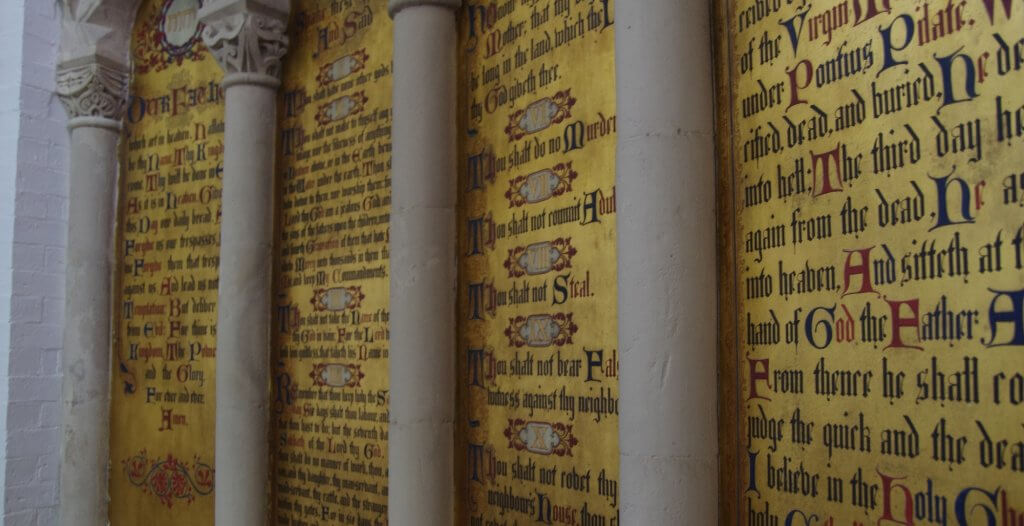 For the past 18 months or so, we have been restoring the Apse. Being a fairly straightforward job, it has been good to do inbetween all the other things that fill our days here. The Apse is the main focal point in the Nave so it is a good place to begin with the internal restoration work.
In comparison to the vastness of the Nave, the Apse appears to be not all that high… but appearances can be deceiving! One of the hardest aspects of restoring the Apse was having to work from a very tall and thin scaffold tower. As you neared the top of the tower, it felt very wobbly and precarious! We did tie it to the stonework at times for some peace of mind. It was also tricky to work from as the Apse is curved. Karl has developed a good head for heights with all the high level work we have to do here, so he was able to complete the work at the highest points.
The work mainly consisted of replastering with lime-plaster where needed, followed by lime-washing. The remaining areas were painted. All the stonework had a good sweep. And of course the three stained glass windows had a wash as they were coated in a fine black mould/dust.
The Apse feels much brighter now and the wonderfully decorative stonework stands out nicely. The lighter paintwork seems to suit the yellow terracotta brickwork.
After having the floor covered over so long during the work, it is nice to see the encaustic tiles once again!
Visitors often comment on the vivid colours of the three stained glass windows in the Apse. The colour shone through even though they hadn't been cleaned for many years. They were made by David Evans (1793-1861), a stained glass artist who was famed for his use of bright colour. David was born in Llanllwchaiarn, near Newtown and moved to Shrewsbury as an apprentice glazier. As he gained in experience and as the stained glass side of the business grew, David became a master craftsman and pioneered the use of medieval stained glass techniques. His work was very influential within the early 19th century stained glass industry.
The Apse is now accessible to visitors, who can now gain a better view of the interior of Christ Church during our openings.