Remembering the Fallen of 'The Great War' – William Quinn
William Quinn
Private :: South Wales Borderers
Killed in Action :: 31st October 1914 :: France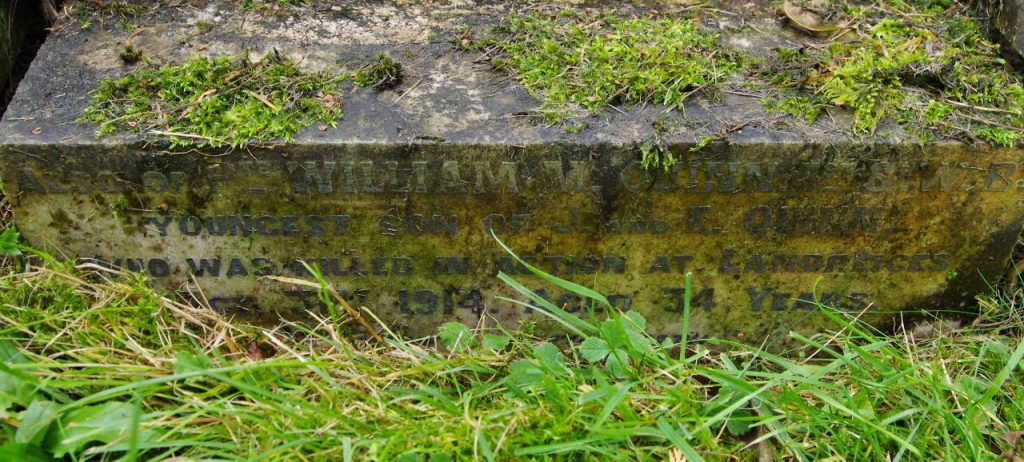 The memorial in the churchyard reads:
Also of Pte. William M. Quinn S.W.B.
Youngest son of J. and E. Quinn
Who was killed in action at Landreices
Oct 31st 1914. Aged 34 Years.
'Faithful unto Death'
Private William Quinn was Welshpool's first casualty of the First World War.
William was born in Welshpool and was the youngest child to John and Elizabeth Quinn. His father, John was Irish and was a French Polisher by trade. William's mother, Elizabeth was born in Berriew. The Quinn family lived in 10 Bear Yard (Brook Street). The house is no longer standing as that area of 'The Back Road' has been developed, but it was probably situated in what is now Sainsbury's car park.
William joined the Army while he was in Manchester and was drafted to India with the South Wales Borderers. He was based in Chatham Barracks in Kent.
At the outbreak of the First World War in August 1914, the South Wales Borderers 1st Battalion were mobilized and formed part of the British Expeditionary Force. They sailed to France and marched towards the Belgium frontier. The Battalion were involved in the Battle of Aisne and the First Battle of Ypres. William was killed in action in Landreices in Northern France on the 31st October 1914.
He is commemorated on the Menin Gate (Ypres) memorial which is dedicated to the Missing and to those whose grave is unknown.
As he enlisted in Manchester, he is commemorated on the
war memorial
at St. Clements Church, Ordsall.
William's name also appears on Welshpool's war memorial in St. Mary's churchyard.
Welshpool's war memorial, St. Mary's churchyard.
John, William's father is buried Christ Church churchyard, along with William's two brothers. The dedication to William is inscribed on the base of the plinth.
"Faithful unto Death"
The Quinn family gravestone, Christ Church churchyard
(The gravestone is one of many in the churchyard which has been laid flat by representatives of The Church of Wales several years ago as it was insecure and therefore unsafe.)
William's story is on display as part of the 'Remembering the Fallen of the Great War' exhibition
Other Christ Church WW1 memorial stories that have been published can be found
here