Remembering the Fallen of the Great War – Leonard Augustus Hedge
Leonard Augustus Hedge
Lance Corporal :: Montgomeryshire Yeomanry
Accidental Death :: 16th June 1915 :: UK
The memorial in the churchyard reads:
In loving memory of
Leonard Augustus Hedge
Lance Corporal  Dispatch Rider  2/1st Montgomery Yeomanry
Born June 14th 1887  Died June 16th 1915
He died 2 days after his 28th birthday.
Leonard Augustus Hedge was born in Shelton, Stoke-on-Trent. He was educated at Dean Close School, a private boarding school in Cheltenham.
In the 1911 census, he is recorded as living in Uttoxeter and working as a Bank Clerk.
At the outbreak of war, Leonard lived in Brecon, working as a Senior Bank Clerk for the United Counties Bank.
The site of the former United Counties Bank, Brecon   Photograph courtesy of Charlie Bass
Whilst living in Brecon, Leonard was very popular and was an active sportsman. Not long before he left Brecon to answer the call to take up arms, he helped to rescue a man from drowning in the River Usk.
In Welshpool on the 20th September 1914, Leonard enlisted with the 2/1st Montgomeryshire Yeomanry and began training as a Dispatch Rider. On the 16th June 1915 he was promoted to Lance Corporal and later that evening was riding through Llanymynych. He collided with a lorry carrying mineral water, and died minutes later. It is thought that a large tree in the village obscured the lights of the lorry.
He was buried here at Christ Church, with full military honors.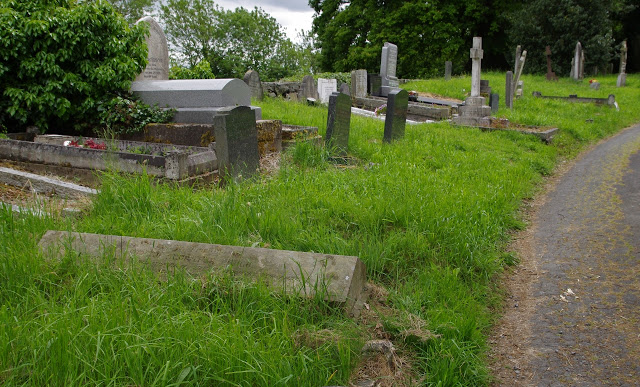 The final resting place of Leonard Augustus Hedge
Leonard Augustus Hedge is commemorated on the Brecon War Memorial. At his former school, a chapel was built as a war memorial to honor all the 'Old Boys' who fell in the Great War. He is also remembered on the Montgomeryshire Yeomanry plaque in St. Mary's Church, Welshpool. However, an error cites his middle name as Armstrong.
Previously published stories about WW1 memorials at Christ Church can be seen
here