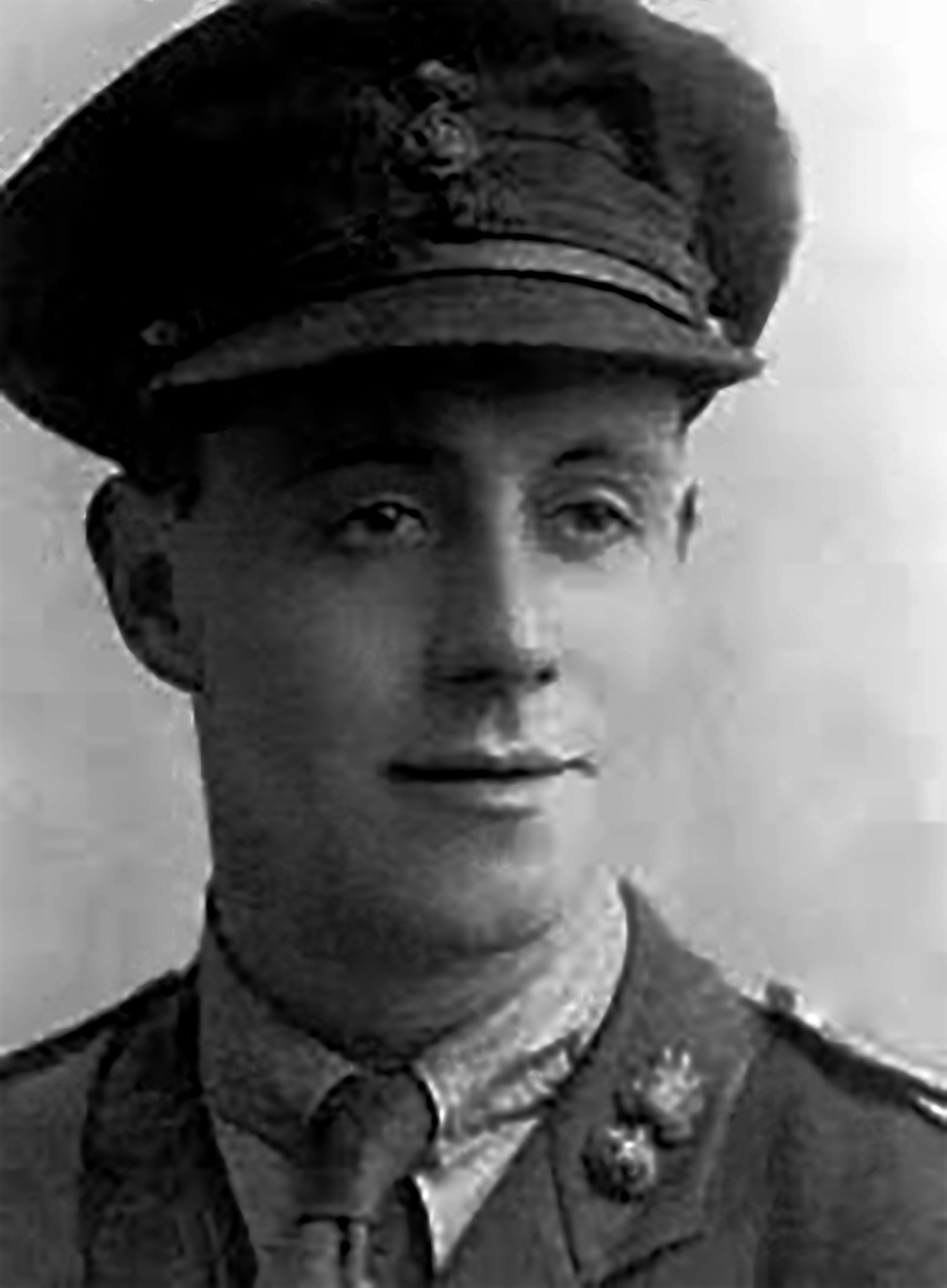 Remembering the Fallen of the Great War – Joseph Ithel Jehu Davies
Joseph Ithel Jehu Davies
Lieutenant :: Royal Welsh Fusiliers
Killed in Action :: 3rd September 1916 :: France
The memorial in the churchyard reads:
'In proud and loving memory of Joseph Ithel Jehu Davies
Lieutenant commanding his company 1st Batt. Royal Welch Fusiliers,
third son of Joseph H. and Sarah E. Davies,
killed while gallantly leading his mem at Ginchy (Somme) September 3rd 1916
aged 22 years.
His body rests in Deville Wood British Cemetery, France
"O valiant heart, who to your glory came, through dust of conflict and through battle flame, tranquil you lie, your knightly virtue proved, your memory hallowed in the land you loved."
Joseph Ithel Jehu Davies was born on 10th August 1894 in Welshpool. He was the youngest of Joseph and Sarah Davies' three sons. His elder brothers were Stanley and Gilbert (of Gilbert Davies Solicitors). The family lived at Ty Coch, High Street, Welshpool, which was also where his father, Joseph, ran his business as a tailor. Joseph and Sarah were both JP's and Sarah was also Welshpool's first Lady Mayor.
Ithel went to Welshpool Grammar and County Schools before attending university at Armstrong College, Durham University. (The Armstrong College building is now the central hub of Newcastle University.) He studied for a degree in Agricultural Science and was on course for a first class honours. He was president of the Agricultural Students' Association and contributed to the college magazine.
Ithel was a fine sportsman and athlete. He was captain of the Welshpool County School Football Club and a member of Welshpool Football Club. At university he was the captain of the football and rugby teams and a member of the boxing team. He was a local sprint champion and at university he won the 100 and 250 yards at the Durham Varsity Sports. He was the secretary of the university Athletic Association. Ithel was due to take part in the sprint trials for the Olympic Athletic team for the 1914 Berlin Games which were subsequently cancelled due to the outbreak of war.
Ithel also enjoyed singing and playing music. He had a fine bass voice and often gave concerts. At university he was in the choir at Trinity Presbyterian Church, Newcastle. He played the organ at Welshpool's Presbyterian Church in Mount Street (now known as the Bethal Chapel).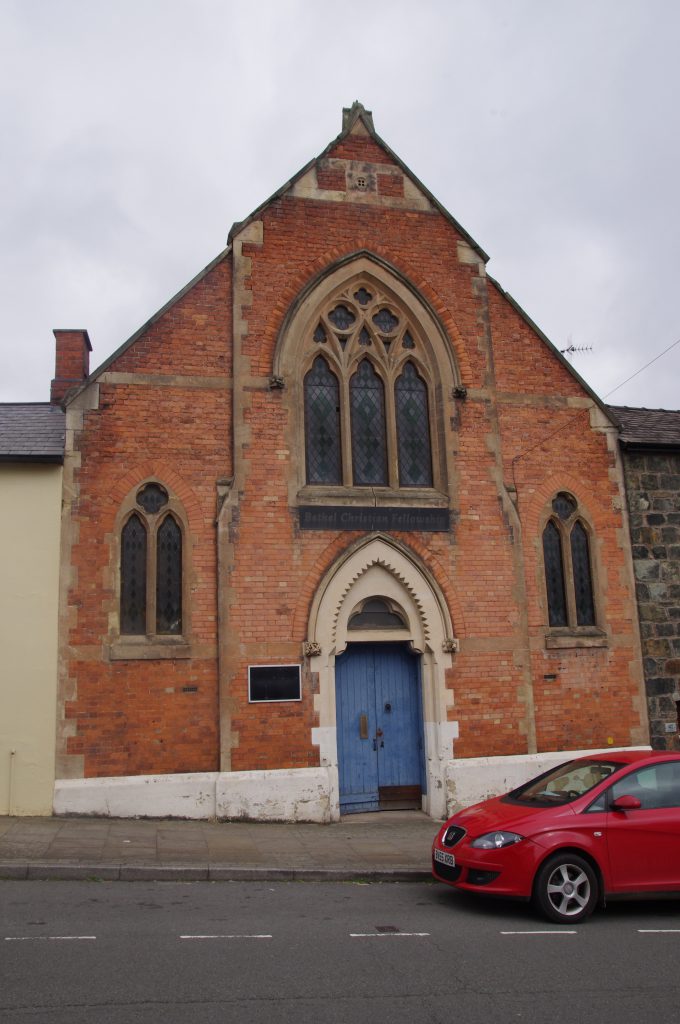 Whilst at university Ithel was a member of the Officers' Training Corps therefore when war broke out he was able to gain a commission with the Royal Welsh Fusiliers in December 1914.
He travelled to France in October 1915 when the 1st Battalion Royal Welsh Fusiliers were part of the 7th Division of the British Expeditionary Force.
During his time there, Ithel was highly regarded by his men and by his commanding officers and greatly distinguished himself with his 'courage and coolness'.
Whilst in the trenches, Ithel kept himself busy by forming his own army choir of over 30 voices. He also wrote poetry including the following poem which he dedicated to his mother.
Les Heros
On the battle-scared plains of north France,
Are our heroes who never knew fear
Their spirits buoyed up by the chance,
That the end of the conflict is near.
Their strong faith in their tryst ne'er grows dim,
Through the strife has been fierce and long
For they know in the end they must win
In the battle of Right against Wrong.
And often the tale has been told
Of deeds that are noble and brave,
How many a hero lies cold
Through trying a comrade to save.
Their deeds through the empire shall ring,
Long after the struggle shall cease,
And we of their glory will sing,
And think how their last rest is – Peace.
From July 1916 the 1st Battalion RWF were involved in the Battle of the Somme, which is considered to be the bloodiest battle in the history of warfare.
Ithel took part in the beginning of the Battle of Ginchy. Ginchy was a French village which had been converted by the Germans into a heavily defended fortress village. It was situated where 6 roads met so it was an important point in the German defensive line. By late summer 1916 Ginchy was a mass of shattered masonry and shell holes.
On 3rd September 1916 Ginchy was the key objective for the Battalion and the 7th Division. They gained control of the village, only to loose it again during a German counter attack. In the following days it repeatedly defied British assaults.
Ithel was not to survive the day. His actions were documented as follows,
'…he was given command of the company…
…he was seen attacking four of the enemy single handed…
…he killed three of them and as far as we know was killed by the fourth…
…he died the death of a true soldier…
…he always did his duty as an officer and a gentleman, and died in the execution of it…
…we all miss him greatly…'
Ithel died on 3rd September 1916 aged 22.
He is buried at Deville Wood War Cemetery, France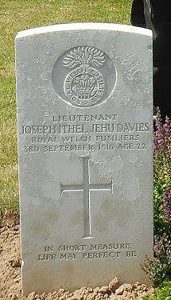 Ithel's war medals were for many years on display in the Headmaster's Office in Welshpool High School.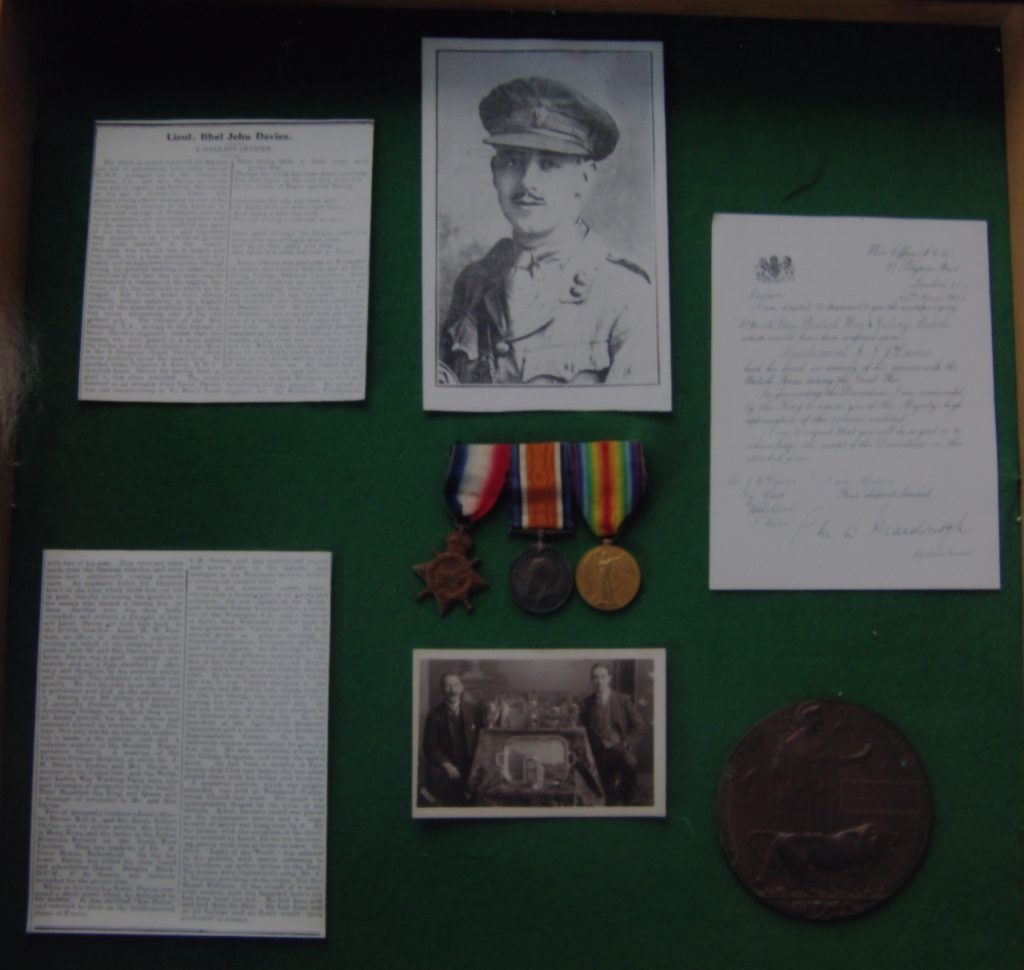 Ithel is remembered on Welshpool's War Memorial in St. Mary's churchyard. He is also remembered on a marble plaque originally on display in the Presbyterian Church, Mount Street, now housed in New Street United Church.
Ithel's name joins a long list of 223 past Armstrong students who fell in the Great War on a large memorial marble plaque in the foyer of Armstrong College, Newcastle.
On the family tomb here in the churchyard, the sword on the west face of the headstone remembers Joseph Ithel Jehu Davies.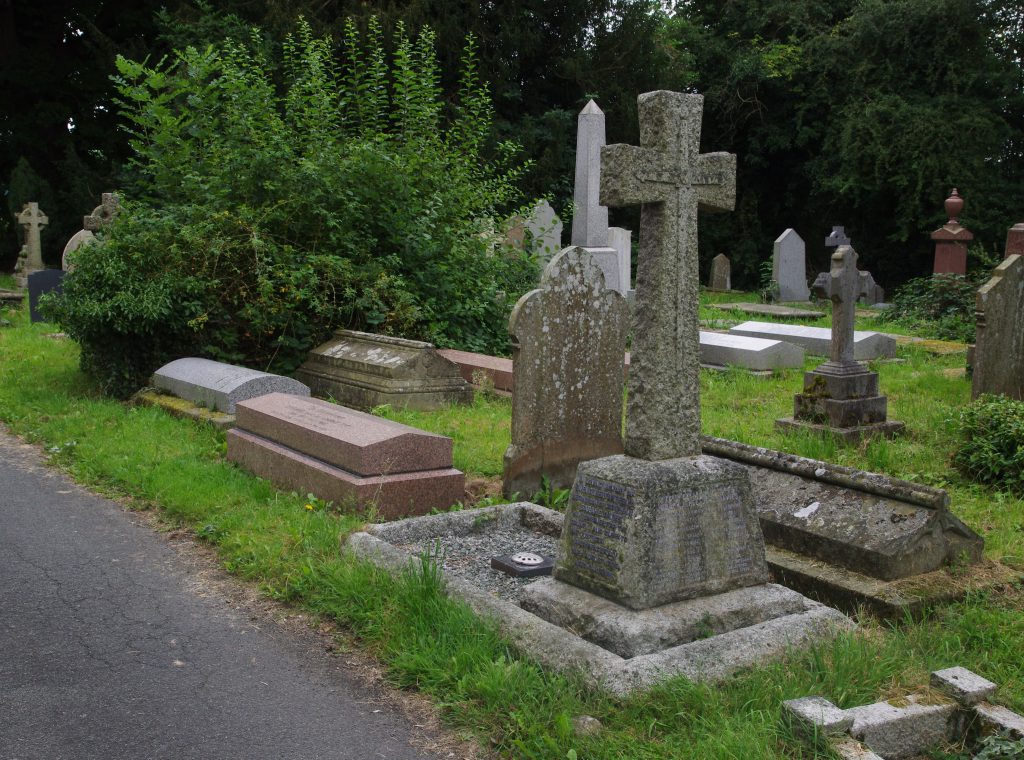 We featured the story of Joseph Ithel Jehu Davies on a film by Powys War Memorials Project.