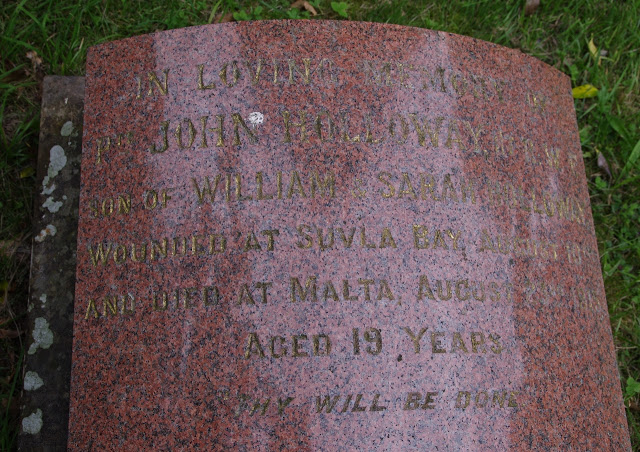 Remembering the Fallen of the Great War – John Holloway
John Holloway
Private :: Royal Welsh Fusiliers
Wounded at Sulva Bay :: Died 23rd August 1915 :: Malta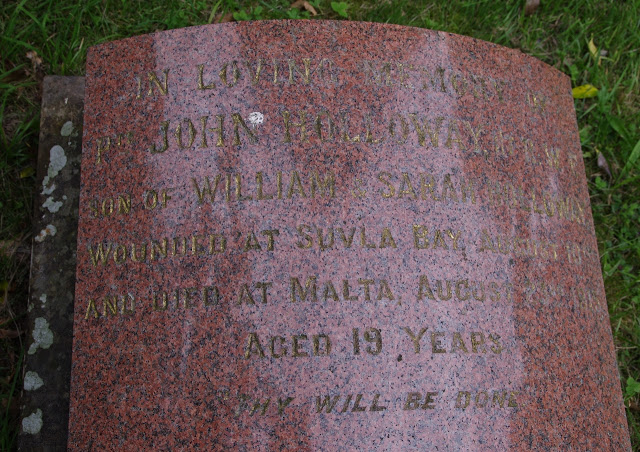 The memorial in the churchyard reads:
In loving memory of
Pte John Holloway   7th RWF
Son of William and Sarah Holloway
Wounded at Sulva Bay August 10th
and died at Malta August 23rd 1915
Aged 19 Years
'Thy will be done'
John Thomas Holloway was born in 1895, the fourth child to William and Sarah Holloway. The family lived at 9 Whittington Passage (near the High Street and Jehu Road).
Whittington Passage runs from High Street to Bowling Green Lane (opposite Sainsbury's)
His father William was a painter (who incidentally painted the interior of Christ Church).
By 1911, the family was living at 21 Mount Street, in the shadow of Christ Church.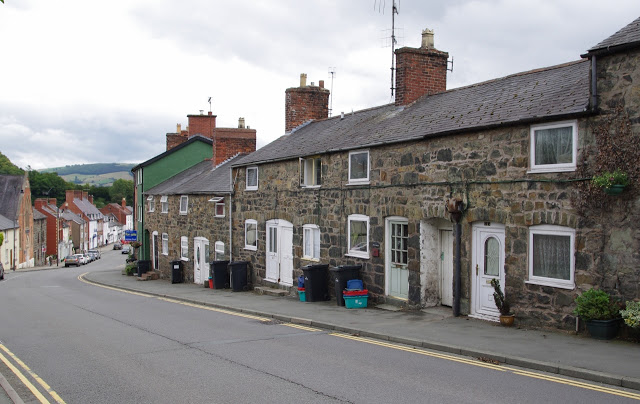 Mount Street
John enlisted with the 1/7th (Montgomery) Battalion of the Royal Welsh Fusiliers, a territorial force. From here John's story follows the same path as neighbours and comrades Charles Sapple and John Williams.
John embarked on a HM Transport Ship on 19th July 1915 at Devonport, Plymouth bound for Gallipoli, Turkey. Three weeks later on the 9th August he along with his battalion landed at Sulva Bay. The following day, in awful heat, they were ordered to take Scimitar Hill from the Turks. They had to cross the dry Salt Lake and head into the hills beyond through smoke and burning scrub. Conditions were poor and chaos ensued. The attack failed.
John was wounded in the attack and was put on a hospital ship to be treated in Malta, the 'Nurse of the Mediterranean'. The week long 850 mile journey to Malta was fraught with danger as the hospital ships had to avoid German submarines and mines. The cramped conditions for the men on the ships meant that infectious diseases ran rife. John arrived in Malta and was treated in one of the hospitals but he died on 23rd August 1915.
He is buried at the Capuccini Naval Cemetery in Malta.
He is remembered on Welshpool's War Memorial in St. Mary's churchyard.
'Thy will be done'
It is poignant that these three Welshpool boys,
Charles Sapple aged 17, John Williams aged 22 and John Holloway aged
19, who would have known each other from childhood; who probably played
together on Mount Street; who enlisted together; who sailed to Gallipoli
together; who fought at Sulva Bay side by side… all died together.
A more detailed account of John's story is on display as part of the '
Remembering the Fallen of the Great War at Christ Church' exhibition.
Previously published stories of WW1 memorials here at Christ Church can be seen here