The kitchen build has
slowly
progressed over the past few months. Since
Part 1
of our kitchen build series (!) more cupboards have been built, running next to the main door. These have been backed by a prayer book shelf which gives them a lovely finishing touch.
We bought drawers which have then been faced with part of a pew seat. Perfect with it's aged and worn features. Karl found some antique handles to go on all the drawers and cupboards. The drawers look as though they have been here for years ~ but with a modern 'soft closing'!.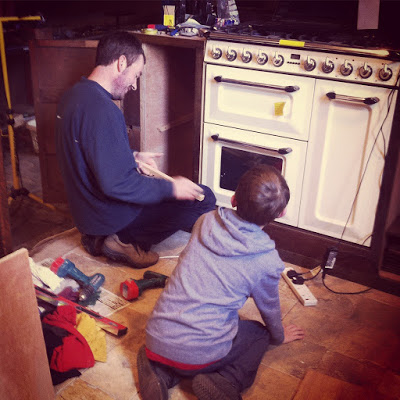 Karl made shelves for all the cupboards, with his young assistant Fred. Followed by myself priming and painting the cupboard carcasses. I chose 'Blue Ground' by Farrow & Ball to give a little colour 'pop' as you open the cupboards as a nice contrast to the dark oak.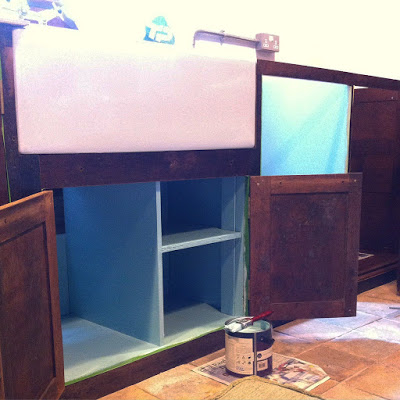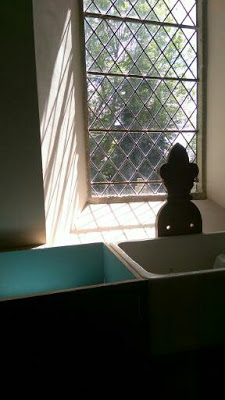 After thorough research, Karl created his own potion to clean and nourish the oak panels. All made from household ingredients!
After work in the evenings, Karl has been putting a great deal of thought and effort into all the finishing touches such as installing these little shelves (above) on the end of a cupboard ~ made from a prayer book shelf.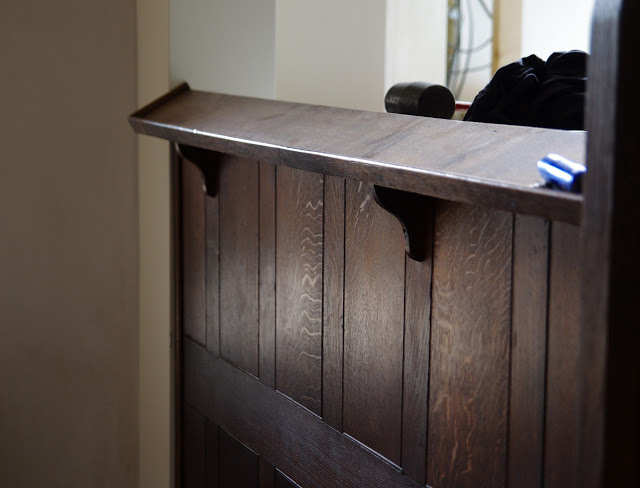 Next came the tricky job of measuring and cutting out templates for the worktops. Years ago we bought an old snooker table to use the slate bed as kitchen worktops. Soon they will be cut to size and installed.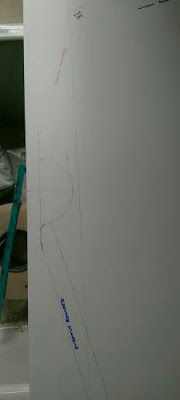 Above, working out the design for the draining board.
Another feature is our kitchen island… an old dentist's trolley! This will be slightly adapted but is the perfect height and is mobile, so it can be easily moved as (believe it or not) there isn't a great deal of space!
So here is how things are looking now… worktops, some shelves and of course, taps are next on the list…