With living in the middle of a churchyard, we are often asked to help locate a grave and it is always a pleasure to assist. We were recently contacted by a gentleman from a Polish Soldier's Memorial organisation, Polskie Miejsca Pamieci, who was researching the story of 'John the Pole'. He had very little information to go on other than that John was perhaps buried at Chirst Church. He had been told that John had settled in Welshpool after serving in the Polish Army during in WW2 and had become a prisoner of war. He had worked at the Buttington Brickworks and had lived in Clifton Street.
We were fairly certain that John wasn't buried here at Christ Church as new burial plots ceased in the 1950's due to the churchyard being full. But we were keen to help and posted on a local history Facebook group, Memories of Welshpool, to see if anyone remembered John; if they knew his name and where he was buried. Immediately the post had a positive response with many people recalling fond memories of the kind, quiet Polish man.
'John the Pole' as he was known in Welshpool, moved on to work at Carpenter & Patterson, a pipe support fittings manufacturing company. He lived at 24 Berriew Road. He was very well liked within the town, even though he couldn't speak very much English. Neighbours recalled his kindness and generosity. He also had quite a reputation for getting work colleagues very drunk when in the local pubs, or after a Union meeting!
He spoke to neighbours of his war time in Poland, witnessing his sisters being raped and his father shot.
John the Pole died suddenly at work; he collapsed whilst operating a drill. His funeral service was held at the Catholic Church and he was buried in Maesgwasted Cemetery.
However there was still no information regarding his full name. I contacted the Environmental Health department at Powys County Council who manage and maintain Maesgwasted Cemetery, to find out if there was a burial record available to view. I wanted to search for a Polish name, possibly with the christian name of Jan or Janusz being the Polsih for John, buried sometime in the 1970's or '80's. The staff were very helpful and were able to find him! His name was Jan Diduck who died on 7th January 1980, aged 60.
Armed with a plan of the cemetery and a plot number, I was able to find the location of Jan's grave. There is no headstone presumably with having no family in the area, so without the burial record it would have been impossible to find.
The grave is located in the grassy area, as marked, between the black and light grey headstones.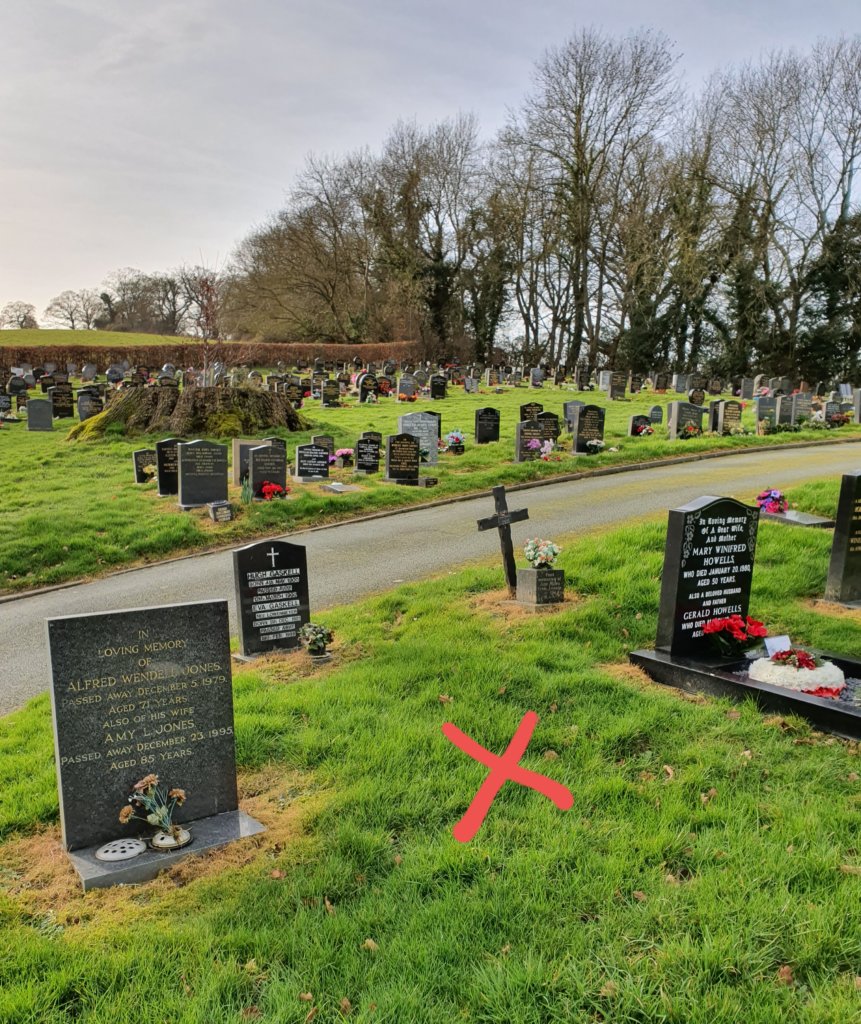 I was able to pass this information on to Polskie Miejsca Pamieci who were very grateful. However after extensive searches Jan Diduck didn't appear on any Polish or UK records! After many attempts with various spelling variations, he was found on the British death records as Jan Diduch.
Research is ongoing on Jan's life in Poland and his war service. Current thinking is that he may be from the Kresy region of Eastern Poland which later became part of Ukraine as the word 'Diduch' means a Ukrainian Christmas decoration consisting of wheat ears tied up with colourful threads.
Rather interestingly, tradionally a Diduch would have been made with the last stalk of wheat harvested that year. The Diduch was brought into the house on 6th January, when the first Christmas star appeared in the sky. The tradition originated from the biblical story of Jesus being born in a stable and Joseph noticed a crack in the wall; to help keep the baby Jesus warm, he placed a wheat sheaf in the crack to fill the hole. In the Ukraine, a Diduch brings a feeling of well-being, comfort and family unity. (Source: https://ukrainian-recipes.com/ukrainian-christmas-decoration-didukh-what-does-it-mean.html )
Although not directly connected to Christ Church, I find this story of Jan Diduch fascinating and hope to be able to find out more about this quiet kind man who made Welshpool his home after a very traumatic time in his homeland many miles away.